4 key steps to efficient Software Development Outsourcing
The growing number of companies that use outsourcing proves that it can be a great asset. You benefit from faster time-to-market, more flexibility, and increased cost-effectiveness – to name just a few. However, you must be aware that cooperation with a third party can be fruitful only on the condition that you answer four key questions before the project starts: Why, What, With whom and How?
The rest of the article is available below free e-book form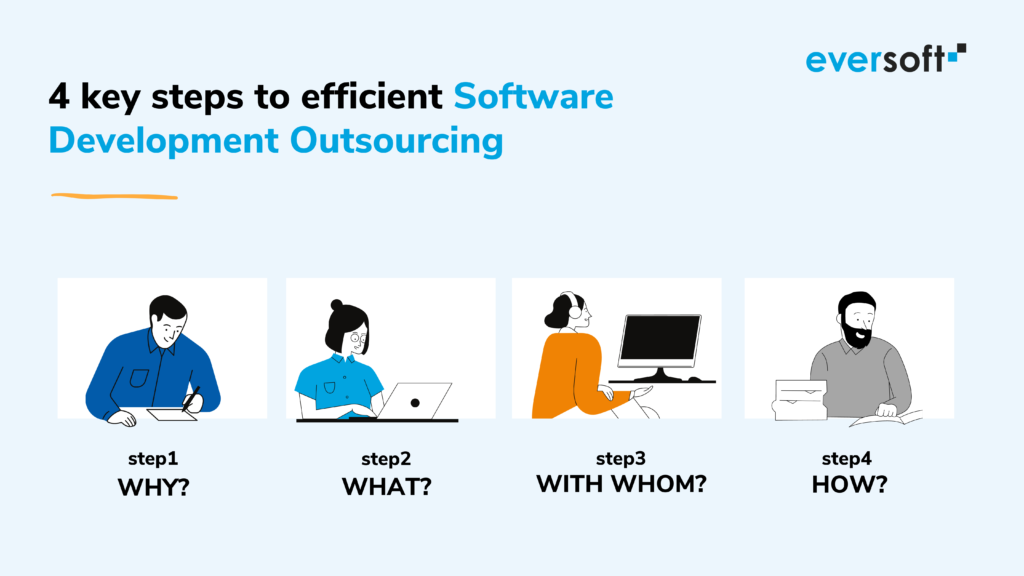 4 key steps to efficient Software Development Outsourcing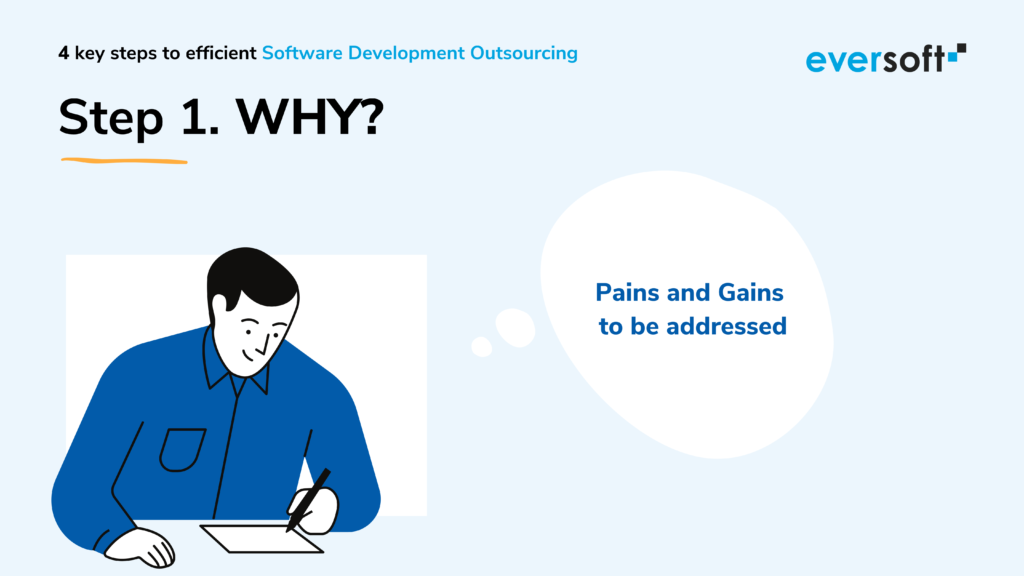 Step 1. WHY?
Before deciding to outsource a software development project, we need to conduct a thorough analysis of the reasons why we need it. Only by answering the question of why can you make conscious decisions based on your company's maturity and main business objectives. As many use cases show, the motivation behind cooperating with a third party varies and depends on your current condition.
Some parties struggle with a lack of internal resources (teams of execution or management), knowledge and experience, or capacity to meet short deadlines. Others want to achieve gains resulting in an increased software development capacity, quicker time to market, more flexible team scaling, better access to unique competencies, or even reduced costs related to development or maintenance.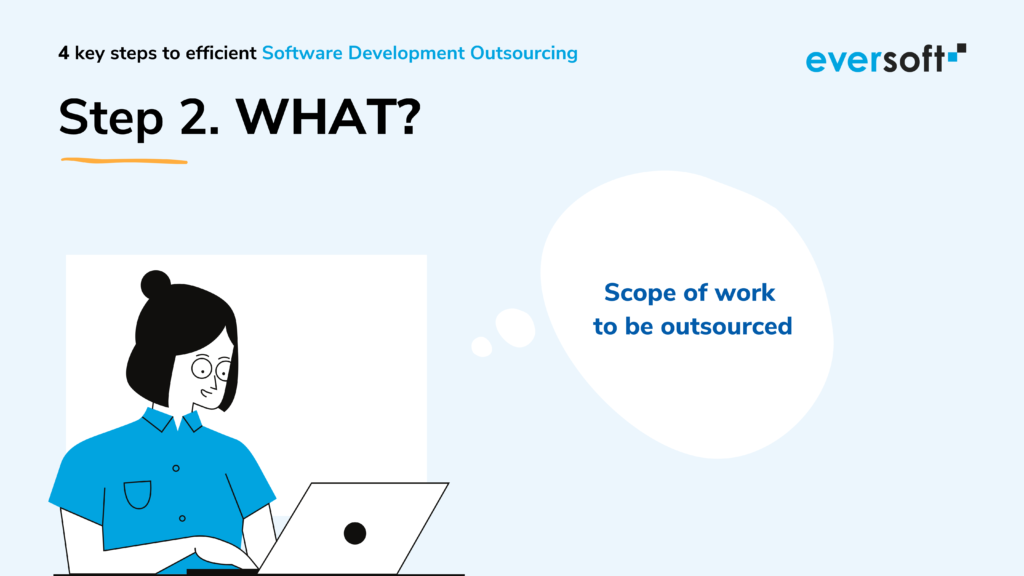 Step 2. WHAT?
When you have already decided to use software development outsourcing (SDO), the next step is to establish the scope of work.
Depending on the maturity of your organisation and product and your technological advancement, you can choose between 3 outsourcing models:
Full Scope
Limited Functionality
Limited Processes
The Full Scope model is advised for developing an entire system. In this scenario, your company doesn't have to be mature in terms of technological or organisational perspective. Regardless of whether you are dealing with an idea or an existing product, all responsibilities are taken by the third party.
Full Scope outsourcing is best suited to companies with:
Low organisational maturity
Low technological advancement
A product at any stage of its development
The Limited Functionality model is used when you want to commission only a certain part of the solution, such as a specific feature or module. In this case, the project has to be divided into parts that can be developed by different teams independently and simultaneously. As a result, it requires a well-crafted plan with elements of the architecture already established .
Furthermore, your company has to be experienced in managing projects, including work planning, etc. Since Limited Functionality requires skills to perform regression tests, integrate solutions, or establish the scope of the project, your business must possess some level of maturity regarding its organisation and technology advancement. However, those tasks can be also transferred to the partner.
Limited Functionality outsourcing is best suited to companies with:
At least some level of organisational maturity
At least some level of technological advancement
A high level of product maturity
The Limited Process model involves outsourcing part of the development process, including tasks such as business analysis, software tests, or event integration. In this model, the technological maturity of the product is not important. What counts is the maturity of your team that should have expertise in the area it is working on. What is of much more importance is the ability to plan the entire project and manage it – as a result, your company has to have mid-level organisational maturity.
At least mid-level organisational maturity
At least some level of technological advancement
The product that can be on a different stage of its development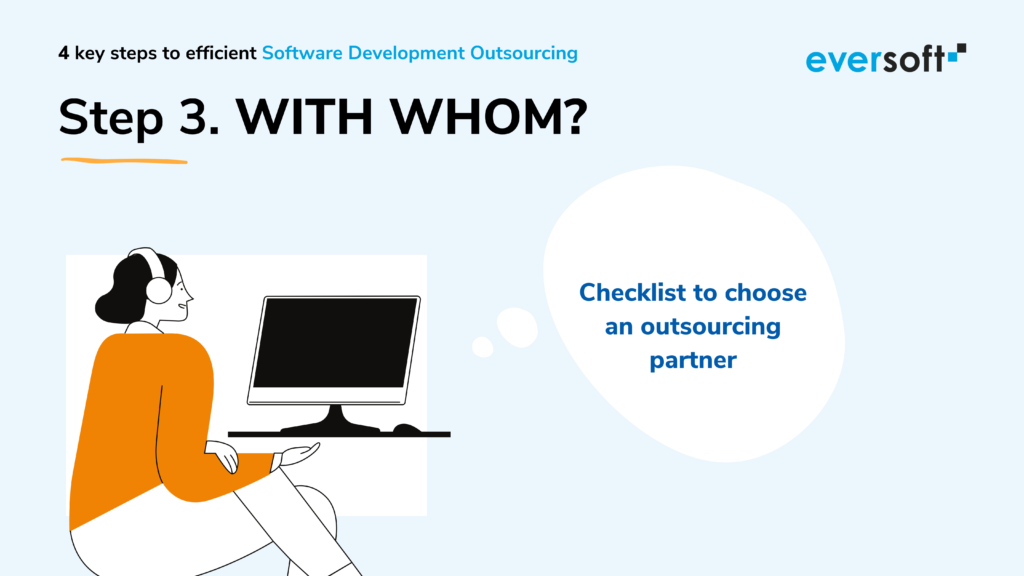 Step
3. WITH WHOM?
Finding the right partner can take some effort.
To minimise the risk of choosing the wrong one it is crucial to take into consideration the following elements:
Long-term experience
First, check the experience of a potential partner. Only by reviewing completed projects can you be sure that an outsourcing company can provide you with a quality product. It is also helpful when an extensive portfolio includes both private and public sector clients, which in turn can serve as an indication that a third party can easily adjust to different environments.
Partnership approach
Pay attention to how the prospect partner treats you as a client. It is a positive sign if they are trying to understand your project by gathering as many details as possible. A solid provider would also show you all possible risks and solutions at an early stage of talks.
Partner in outsourcing implementation
The right partner will support you across all stages of preparations, even to address issues related to the question of "How?" (see below).
Additional services in the area of software development
Since software development is not all about implementation, a trusted partner should provide consulting on top of services.
Remember the needs of your teams
Fruitful cooperation requires both hard and soft skills. If a provider lacks the latter, it can affect the entire project, preventing you from growing.
Cultural differences
Bear in mind that cultural differences can lead to some problems when working hand in hand. Only by carefully analysing all meetings, negotiations, and talks can you decide if both parties have a chance of finding common ground.
Geographic location
In today's world, we can find an outsourcing company regardless of the location. However, the same time zone would be helpful when the cooperation requires maintaining constant communication.
Costs
Price is usually a key element when starting initial talks with the partner. Yet, one must be aware that quality products with quick time-to-market do not always come cheap.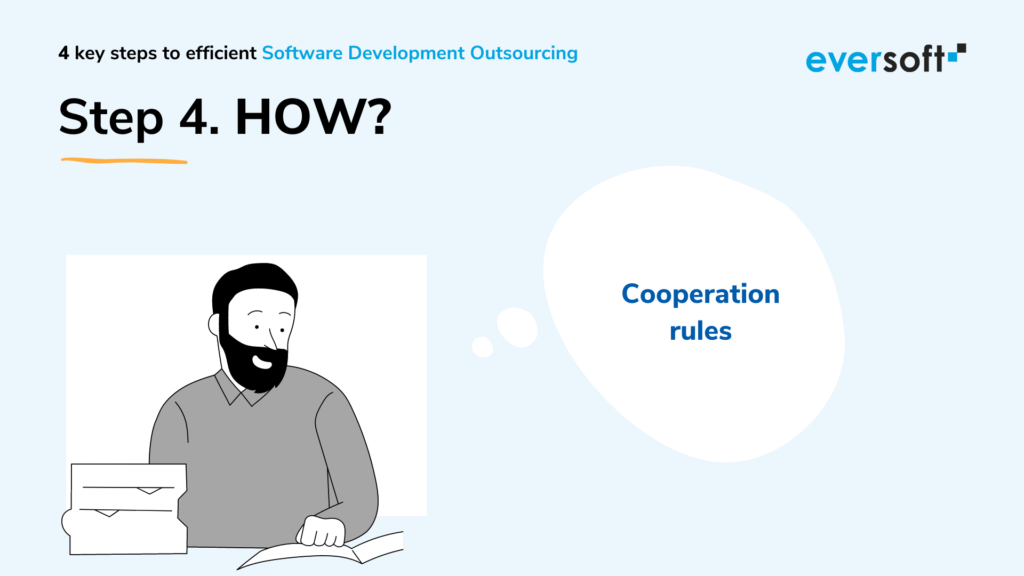 Step 4. HOW?
If you managed to address all the points above, it's time to address the last question: How? To ensure a successful start of the partnership you need to go over main points, including contract, communication, procedures and the first trial order.
Contract
In an attempt to formalise cooperation, the company needs to prepare an agreement for service delivery. The best solution is to sign a framework contract with the scope of work defined in orders. Why? It allows you to change priorities during development.
The document should include the following points:
Definitions
Subject and a term of the agreement
How to order services – backlog of work
Scrum team composition
Progress of services performed within an order
Acceptance of services
Exit plan
Intellectual property rights – make sure all of them will be transferred to you.
GDPR
Communication and procedures
The scope of work determines how closely you will be working with the partner. Thus, depending on your level of involvement and the maturity of the product, you need to choose the right tools and establish communication rules including the frequency of meetings, procedures on reporting and solving problems, etc. The same rules apply to technology. The level of independence in that respect varies and depends on the chosen outsourcing model. Make sure to agree on the repositories of the source code that will allow you to take over, and eventually integrate it into your solution.
First trial order
It is also highly recommended to run the first trial order as a proof of concept. This will verify the software development experience of dedicated team members and confirm the new organisational environment works. Of course, this step is not obligatory, but it gives you an extra chance to check if you share common values with the vendor.
Software Development Outsourcing Model – Summary
Software development outsourcing is a great solution for almost every company, regardless of the maturity of its product, organisation, or technological advancement. To ensure the partnership will meet your expectations, you need to ensure these four questions are fully answered, allowing you to minimise the risk of not achieving your business objectives.
Related posts:
Work with veryfied partner
Schedule a free 15-min consultation