Benefits
How will using Eversoft benefit you?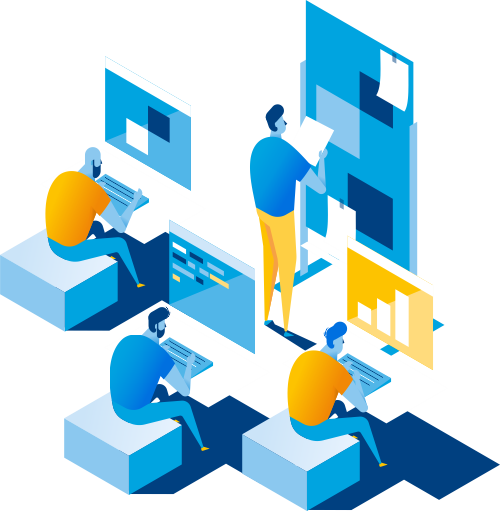 Let us show you how it works!
Access to it resources
Immediate access to highly trained specialists who can be difficult to find.
High quality software
Created by experts with unique competences and experience in designing and developing software (included in the price guarantee of proper operation with an SLA tailored to the client's needs).
Independence
Fast and efficient system delivery, without needing to expand your resources and competences.
Wide range of technologies
Development process based on professional technologies and tools adapted to the client's needs (with the possibility of choosing one several technological stacks).
Cooperation continuity
Providing maintenance and implementation of software development needs as a natural continuation of cooperation (zero customer effort related to putting the finished system into operation and further development),
Flexibility of business changes
Enabling or streamlining project implementation or business change (starting talks within 2 business days, commencing joint project implementation within 10 business days).
Agile aproach
The possibility of changing the scope of previously agreed work (every two weeks we set the scope of work for the next 2 weeks).
Fast results
Fast and efficient delivery of a running system without needing to expand your resources and competences (after the first 2 weeks we provide added value).
Comprehensive solution
The provision of a complete and all-encompassing solution giving all the benefits of a single point of contact.
Savings
Significant cost reduction and achieving cost flexibility in IT area. Competitive prices compared to local costs of IT services.
Focus on core business
Allowing you to focus on your business goals and your organization's development by entrusting your IT requirements to a professional outsourcing business partner.
Stable partnership
Organizational and financial stability - ensured continuity of our operations (we are part of The ASSECO Group, who are the sixth largest group among software providers in Europe with over 24,000 employees in 50 countries).
Industry experience
Over a dozen years of functioning on the market with thousands of completed projects in several dozen industries.
What makes Eversoft unique?
Like any company, we have many advantages. However, what makes us particularly stand out is:
Creating strong partnerships
Creating strong partnerships – together we will look at the project as a whole and we will go the extra mile to ensure your project is a resounding success.
Successfully meet the requirements
We make every effort to successfully meet the requirements of our Clients regarding IT specialists, often going beyond the market-accepted competence standards.
Quality of communication
We attach great importance to the quality of communication. This approach comprises of an experienced Project Coordinator, dedicated from the very beginning of our cooperation to supporting the Client in the processes of organizing cooperation, service acceptance as well as project settlements on an ongoing basis.
Practical experience
We have practical experience and a perfectly organized process of work with our Clients using a remote model. Our office guarantees our specialists excellent working conditions and communication tools in one of the best office locations in Europe. We are always happy to provide a workspace for our Client's Project Manager so that he or she can manage the work of our specialists at their disposal just like at their own company.
Polish company
We are a Polish company, employing well-trained and experienced specialists enjoying worldwide achievements and recognition. According to the HackerRank survey, Poland is ranked 3rd on the list of countries with the best software developers.
Maintain unchanged
We are able to maintain unchanged key resources to which the Client is accustomed.
Create synergy
We are able to create synergy by intelligent use of both our own and the Client's competences.
Geographical location
Our geographical location at the centre of Europe with a multitude of daily airline connections ensure mobility for us and our Clients within the same time zone.
Software quality in terms of reliability and security
We are able to develop high availability software processing sensitive data.
We are able to develop software with a focus on the cost and ease of its future maintenance and development due to our experience in software maintenance and development.
Member of the Asseco Group
As a Member of the Asseco Group we ensure access to developers with vast experience and knowledge; scalability in terms of technology, competence, resources, industry and design experience.
Do you want to start a new IT project without having to invest in your own IT department?
Contact us
Eversoft –
software development
services tailored to your business!